I found what I think is the first diary I ever kept and judging by the boy's name around which I drew red hearts every time I mentioned him, I'm guessing I was about 11 or 12 at the time. It has a green faux leather cover and one of those little square "locks." I remember keeping the key for years, thinking it actually protected my secrets, first from my sister who would have read it out loud at the dinner table to mortify me, and second from my mother who would have corrected my grammar and spelling. You see, we come from literary stock. Her father's family started Publisher's Weekly, one of my great grand something or others wrote an entire 24 volume set of encyclopedias, and my grandfather himself became an English teacher who drilled "a preposition always takes an object" into us long before I knew what it meant. So, I guess it makes sense that I never questioned wanting to be a writer.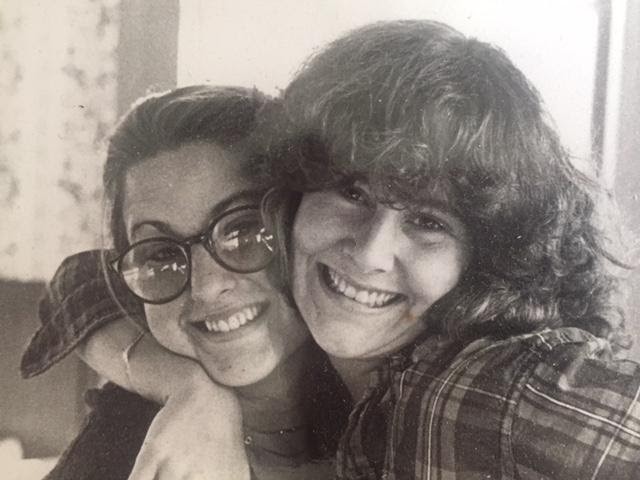 I don't know that I ever made a conscious choice to write non-fiction; what I do remember is a college professor ridiculing my writing as "purple prose." While she brought me to tears at the time, I am grateful because she steered me away from a frustrated life struggling to be the next Stegner or Hemingway – ridiculously impossible goals, and shoved me toward the rewards of research and the clean, clear words of journalism; "Just the facts Ma'am."
But never in my professional imaginings did I think I would ever blend my love of the craft with the love of a cherished friend. But here Liza and I are publishing the "The Babysitter" – a truly collaborative effort of memory, research and writing.
When she told about her chilling story of having been babysat by a serial killer while a young girl in Provincetown, I immediately exclaimed, "There's your book!" But, she was still processing the revelation of who Tony Costa, her benevolent babysitter, really was and struggling to put the jumbled, jagged memories to paper. And no wonder. It's a hell of a saga — all the more staggering because it's her saga. How to write a memoir interlaced with a true crime story? How to separate herself from the heartbreaking abuse she suffered while maintaining a writer's objective lens on the facts? How to find the courage to reveal some very dark secrets while preserving her and her family's privacy?
In the few years after she told me of Tony Costa, I watched her battle those seemingly contradictory goals. Then, one day while I was digging for my next subject worth telling, I realized I already knew of one. The Babysitter – it had what every great non-fiction book needs: a dynamite core story within a larger historic happening. And if you've got complicated and compelling characters to boot, it's a writer's dream.
I called her in early 2018 and offered to help her write the book, if she'd have me. Her response was pure Liza. She cried.
"I didn't dare ask you," she said, her voice quavering.
And as I say, here we are. Celebrating its completion. It's been a magical, challenging, enriching process. Every writer should have the gift of such a project and with such a partner.